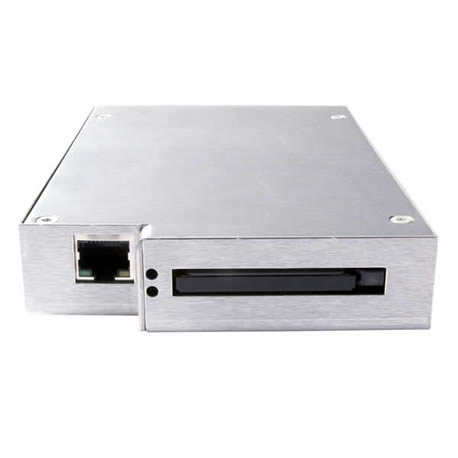 3.5" SCSI 80-Pin Wide SCA, Wide LVD (8bit)
The SCSIFLASH 3.5" SCSI 80 pin disk drive emulator offers a plug and play replacement tomany 80-pin (8-bit) legacy storage disk drives.

SCSIFlash Manual Available Upon Request
Proprietary FPGA and industrial grade (SLC) CompactFlash technology are combined allowing the solid state SCSI 80 pin drive to appear on the host's SCSI bus as a SCSI device.
The SCSIFLASH 3.5" 80 pin Disk Drive Emulator is form fit designed allowing the same mounting points to be used.
Allows attachment of CF Cards from 1GB to 256GB with the SCSI bus.
The device can be configured to be seen as any 3.5" SCSI 80 pin disk drive by the SCSI host.
Using only 5V the SCSIFlash drive offers low power.
Field upgradable microcode via integral comport.
If required, Reactive or a Reactive partner can offer optional integration support.
Board size: 3.5" Form factor – 3.75"x5.5".
Compact Flash: Standard 3M header for Type 1 & 2 cards.
CF Capacities Supported: ~ up to 256GB (MLC) for removable drive and non mission critical applications and up to 64GB (SLC) for fixed disk heavy read/write mission critical applications.
Power: 5 Volts only @ 0.8 Watt (Typical) + CF requirement.
Power connector: Standard Disk drive type SCSI-1 and 2 Compatible. 3.5 80 pin SCSI Connector.
SCSI transfer rate: 10Mbytes/second.
ComPort for microcode load and real time diagnostics.
3.5" SCSI 80pin SSD replacement for 3.5" 2.5"
Seagate: ST318405LC, ST336607LC, ST39204LC, ST936701LC
Example drop in replacements - Other 3.5" 80pin SCSI Disk drive models supported
3.5" Solid State 80pin SCSI Disk replacement
3.5" 80pin SCSI Solid State Disk
Custom Emulation Solutions
We have an in house team of highly experienced technical engineers, based in both the US & UK who have an in-depth knowledge of legacy data storage systems. We can develop a full replacement system as per your requirements or offer support in developing and creating an custom emulation that extends the life of the legacy computer.
Get in Touch
---