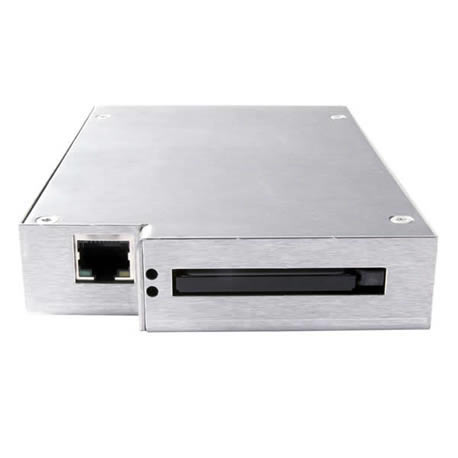 3.5" SCSI PC Card 50-Pin Replacement
SCSI SSD Replacement for SCSI PC Card Drives.
Varying frame/ enclosure options available (3.5", 5.25", Enclosure & bespoke design) allowing complete form, fit & function.

CF2SCSI Datasheet (available upon request)
3.5" SCSI PC Card fixed disk 50-Pin replacement.
CompactFlash media gets converted by small format PCB appearing on a host's SCSI bus as a SCSI device.
Any 3.5" disk drive or adaptor or inclusive larger drives full height drive are replaced by 3.5" form factor drive
By using same mountings, 3.5" disk slot is used offering true 'form, fit function' where it fits perfectly.
Allows attachment of CF Cards from 1GB to 256GB with the SCSI bus.
The device will be seen as any emulation's disk drive by the SCSI host.
Using only 5V only the low power board has a push button user interface and an optional add-on display.
Field upgradable microcode via integral comport.
If required, one can use optional integration support for 3.5" SCSI PC CARD 50-PIN REPLACEMENT.
Board size: 3.5" Form factor – 3.75"x5.5".
Compact Flash: for type 1 & 2 cards Standard 3M header.
CF Capacities Supported: ~ For non-mission critical applications and removable drive ~ up to 256GB (MLC) and for fixed disk heavy write/read mission critical applications up to 64GB (SLC).
Power: CF Requirement + 5 volts only @ 0.8 Watt (Typical)
Power connector: 50 pin DIL 0.1" connector. Standard disk drive type SCSI-1 and 2 Compatible.
SCSI transfer rate: 10Mbytes/second.
SCSI Connector: 3.5" 50 pin SCSI PC Cards / 3.5" 50 pin SCSI PC Card Driver / 68 pin SCSI PC Card Drive also supported with 50/68 pin adaptor.
LCD Display: (optional) 2X16 backlit display with push button (mounted externally) for SCSI set-up , Comport for real time diagnostics and microcode load.
Real-time activity display, SCSI set-up and real-time diagnostics.
RS232 Serial Port for real time diagnostics and microcode load.
3.5" SCSI 50-Pin Narrow SSD PC Card replacement
3.5" SCSI 50-Pin Narrow Solid State Drive
3.5" SCSI 68-Pin Narrow PC Card Solid State Drive replacement

Custom Emulation Solutions
We have an in house team of highly experienced technical engineers, based in both the US & UK who have an in-depth knowledge of legacy data storage systems. We can develop a full replacement system as per your requirements or offer support in developing and creating an custom emulation that extends the life of the legacy computer.
Get in Touch
---