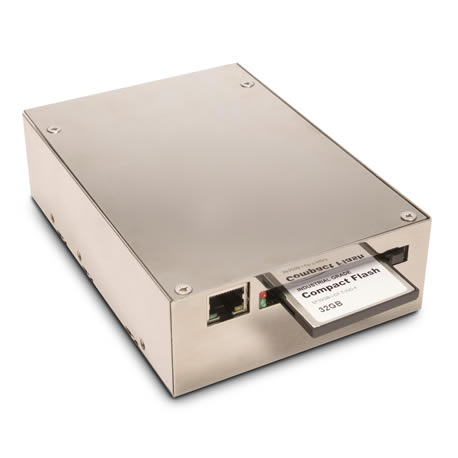 3.5" SCSI Tape Drive 50-Pin Replacement
The SCSIFLASH-Tape Drive is based on CF (Compact Flash) and provides a drop-in, solid state replacement for DLT, DAT and DDS SCSI tape drives. Network/Ethernet variants also available.

SCSIFlash-Tape Datasheet
The SCSIFlash-tape drive from Solid State Disks Ltd uses removable Compact Flash replacing legacy SCSI tape drives and substitute cartridge tape media or reel-to-reel tape.
There is no need for additional register or software changes to the legacy host. Vital data-ups are enabled by the network restore and back-up capability to be created as a full image of its CompactFlash. This is transferred through an ethernet network. Remote storing of files is possible from the legacy equipment making it simple to restore as and when required.
Disk Image Transfers are done by using Universal TCP with remote restore and back-up configuration execution which is controlled by the FLASH2GUI API Graphical User Interface (GUI).
Industrial grade CompactFlash card technology are used by the SCSI tape drive emulator. The SCSIFlash-Tape Drive offers programmable hardware that provides a drop-in, solid state replacement for redundant electromechanical tape drives utilizing the SCSI interface. The popular DLT, DDS and DAT tape drives are replaced by SCSIFlash-tape on varied ageing host systems.
Service providers and OEMs enabled by the SCSIFlash-tape products, receive a cost-effective, fast solution supporting the legacy systems. The configurable firmware of the product achieves the perfect host match. It also helps to eliminate any need for host software or hardware changes.
Use of "Solid State" true industrial grade technology.
Easy and fast system Reload.
CompactFlash media is converted by small format PCB appearing on a host's SCSI bus as a SCSI device.
3.5" or 5.25" form factors are replaced by the Solid State SCSI Flash Tape Drive.

Different sized enclosure and mountings are available.
By using same mountings, 5.25" disk slot is used where the mounting points align correctly - offering complete "form, fit, function"
The device will be recognises as any emulation's disk drive by the SCSI host.

Using 5V the low power board has a push button user interface and an optional add-on display.

Field upgradable microcode via integral comport. It is also possible through RJ45 network Support.
If required, one can use optional integration support.
Restore capability and additional ethernet backup is also available replacing the traditional costly legacy media's manual rotation.
Feature Benefits of Network
An own configurable IP Address with the network-enabled SCSIFLASH drive.
Restore direct to LAN & bit for bit image Backup is allowed with Network-enabled SCSIFLASH.
Simple importing and moving files between tools/host systems.
FLASH2GUI NETWORK – SUMMARY OF FEATURES
Unauthorized use prevention with login levels.
Restore and backup disk image.
Disk Capacity Setting from 1MB to 64GB.
Drive contents can be written, protected and erased.
Set Drives name and IP address remotely.
Set drive emulation.
Image files (.img) are allowed by the embedded Flash2GUI Image to be sent to a local onsite server or PC from the SCSIFlash drive. It also allows editing, unpacking, and repacking of the imaged file. As new data file, this file can be re-sent to the SCSIFlash drive.
Image Editor Capability - Summary
Drive image contents viewing.
Extraction of folders, files or complete disk contents to laptop / server or PC (including message logs, exported recipes and recipe files, etc.).
Addition and removal of folders, files from disk that includes recipes.
Addition of new software installation files to run from the drive.
Creation of a new formatted drive.
Check out our YouTube Channel to see a demonstration of FLASH2GUI on FLOPPYFlash and SCSIFlash for control and configuration, restore and back-up and different drive emulation selection. Link here
Board size: 3.5". and 5.25" Form factor
Tray/ Enclosure size options: 3.5", 5.25" & Desktop Form factor.s
CF Capacities Supported: ~ up to 256GB (MLC) for removable drive and non mission critical applications and up to 64GB (SLC) for fixed disk heavy read/write mission critical applications.
Compact Flash: Standard 3M header for Type 1 & 2 cards.
Power: 5 Volts only @ 0.8 Watt (Typical) + CF requirement.
Power connector: Standard Tape drive type SCSI-1 and 2 Compatible. 50 pin DIL 0.1" Connector.
SCSI transfer rate: 10Mbytes/second.
RJ45 Ethernet port for Restore / Backup /Image Manager and configuration / emulation changes.
• Archive Viper 150
• Archive Python 4320
• DEC TZ86, TZ87 and TZ8
• DEC TLZ06, TLZ07, TLZ09, TLZ10 and TLZ88
• DEC TK50 and TK7
• DEC TZK9, TK10 and TK11
• DDS DAT, DLT - HP C1533 / C1539
• HP/DEC "Storage Works" tape drives
• QIC
• Seagate STD22400N
• Seagate SDT11000
• TLZ10, TZ86 & TZ87, TLZ06, TLZ09, TLZ07, TK70,TK50, TZ89, TZK9, TZK10, TZK11, TLZ88, DEC VAX station 4000-90A, uVAX, StorageWorks, VMS and VS4000 systems.

Archive
Python, Viper, 2105S, 2525S, VP150, 2150S, 2060

VP60S, QIC-150,QIC-120, QIC-525 QIC-24
Anaconda 2750
Python DAT 4320,4322, 4324, 4326, 4520, 4540

Conner
CS250QE, CS525QE, CS2000, CS4000, CTD2004, CTD4004 CTD8000E, CTT8000R, CTM3200, Travan

DEC
TLZ06, TLZ09, TLZ07, TLZ10, TZ86, TZ86, TK70,TK50, TZ89, TZK9, TZK10, TZK11, TLZ88, DDS DAT drives

Exabyte
EXB8200, EXB8205, EXB8500, EXB8505, EXB8705

Georgens
DC2000

HP
C1533A, C1553A, C1554A, C1503, C1504, C1526 C1537A, C1555, C1556, C1539, C1536A C5583A, C5685A, C5683A, T-C7438A

Quantum
DLT2000, DLT4000, DLT7000, DLT8000, SDLT

SONY
SDT-2000, SDT- 2601, SDT-4000, SDT-5000, SDT-7000, SDT-5010, SDX-300, SDX-400, SDX-500, SDT-9000, SDT-5200, AIT1, AIT2, 9 track

Tandberg
SLR2.5, SLR2, SLR3, SLR4, SLR5, SLR6, SLR7, SLR24 TDC6287, MLR TDC3820, TDC4120, TDC4220, TDC4222, TDC3660, TDC 3540, TDC4100, TDC4200, TDC6100, DLT4000, DLT7000, DLT8000

TEAC
MT-2ST-45S, MT-2ST-50, MT-2ST-55, MT-2ST-70, MT-2ST-F50B

Wangdat
1300, 2000, 3100, 3200, 3400

Wangtek
5125, 5150, 51000, 52000, 5360, 5525, 6130, 6200, 9500

Host Examples
• Alcatel-Lucent 5ESS HP C1533 / C1539
• HP 9000 712 with HP-UX 9.05, HP 9000 B2000 or B2600 with HP-UX 10.20, B180L and B2600 HP9000 systems.
• DEC VAX 400, VAX station 4000-90A, VS4000, uVAX and MicroVAX
• IBM RS6000™ iSeries AS400
• HP 9000 / HP 715
• Ericsson AXE-10
• Nortel DMS-10 NTJIT69A
• NEC NEAX SIGMA 61E / 61S
• Siemens EWSD HP88781AA / HP2940A
• Stromberg-Carleson DCO SDT-11000
• Telebras Tropico

Operating System Examples
• HP/DEC VMS
• iRMX HI CLI
• Multiple other proprietary OEM O/S
• Unix OS
Note that the above product names are the trademarks of the companies listed.
Custom Emulation Solutions
We have an in house team of highly experienced technical engineers, based in both the US & UK who have an in-depth knowledge of legacy data storage systems. We can develop a full replacement system as per your requirements or offer support in developing and creating an custom emulation that extends the life of the legacy computer.
Get in Touch
---